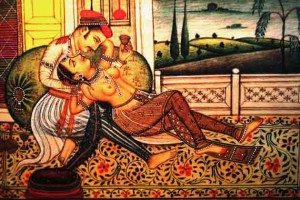 The Kama Sutra is an ancient Indian Hindu text widely considered to be the standard work on human sexual behavior in Sanskrit literature written by Vātsyāyana. A portion of the work consists of practical advice on sexual intercourse. It is largely in prose, with many inserted anustubh poetry verses. "Kāma" which is one of the four goals of Hindu life, means sensual or sexual pleasure, and "sūtra" literally means a thread or line that holds things together, and more metaphorically refers to an aphorism (or line, rule, formula), or a collection of such aphorisms in the form of a manual. Contrary to popular perception, especially in the western world, Kama sutra is not just an exclusive sex manual; it presents itself as a guide to a virtuous and gracious living that discusses the nature of love, family life and other aspects pertaining to pleasure oriented faculties of human life.
Historians attribute Kamasutra to be composed between 400 BCE and 200 CE.
The seeming contradictions of Indian attitudes towards sex can be best explained through the context of history. India played a role in the history of sex, from writing the first literature that treated sexual intercourse as a science, to in modern times being the origin of the philosophical focus of new-age groups' attitudes on sex. It may be argued that India pioneered the use of sexual education through art and literature. As in all societies, there was a difference in sexual practices in India between common people and powerful rulers, with people in power often indulging in hedonistic lifestyles that were not representative of common moral attitudes.