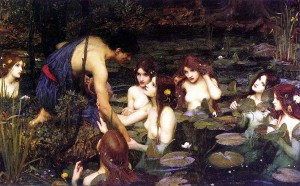 A nymph in Greek mythology and in Latin mythology is a minor female nature deity typically associated with a particular location or landform. There are five different types of nymphs, Celestial Nymphs, Water Nymphs, Land Nymphs, Plant Nymphs and Underworld Nymphs.[citation needed] Different from goddesses, nymphs are generally regarded as divine spirits who animate nature, and are usually depicted as beautiful, young nubile maidens who love to dance and sing; their amorous freedom sets them apart from the restricted and chaste wives and daughters of the Greek polis. They are believed to dwell in mountains and groves, by springs and rivers, and also in trees and in valleys and cool grottoes. Although they would never die of old age nor illness, and could give birth to fully immortal children if mated to a god, they themselves were not necessarily immortal, and could be beholden to death in various forms. Charybdis and Scylla were once nymphs.
Other nymphs, always in the shape of young maidens, were part of the retinue of a god, such as Dionysus, Hermes, or Pan, or a goddess, generally the huntress Artemis. Nymphs were the frequent target of satyrs.
Due to the depiction of the mythological nymphs as females who mate with men or women at their own volition, and are completely outside male control, the term is often used for women who are perceived as behaving similarly. (For example, the title of the Perry Mason detective novel The Case of the Negligent Nymph (1956) by Erle Stanley Gardner is derived from this meaning of the word.)
The term nymphomania was created by modern psychology as referring to a "desire to engage in human sexual behavior at a level high enough to be considered clinically significant", nymphomaniac being the person suffering from such a disorder. Due to widespread use of the term among lay persons (often shortened to nympho) and stereotypes attached, professionals nowadays prefer the term hypersexuality, which can refer to males and females alike.
The word nymphet is used to identify a sexually precocious girl. The term was made famous in the novel Lolita by Vladimir Nabokov. The main character, Humbert Humbert, uses the term many times, usually in reference to the title character.